News
Aggressive physical therapy immediately after surgery is effective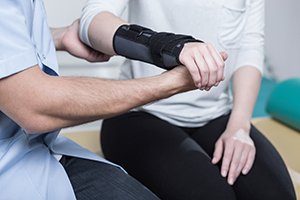 In most cases the wrist is immobilized for several weeks following surgery
The radius is the larger of the two bones that make up the forearm, and the end of this bone towards the wrist is called the distal radius. Fractures of the distal radius are very common, most typically occurring from falling on an outstretched arm. In the event of a fracture, a type of surgery called open reduction and internal fixation (ORIF) may be utilized if necessary, which is followed by rehabilitation. The wrist is usually immobilized for several weeks during this process, and exercises to strengthen the wrist typically begin about 6-8 weeks after surgery; however, some suggest that this period of waiting is not necessary. In order to evaluate this, a study was conducted that compared traditional rehab with a more accelerated program in which exercises begin much sooner.
Two groups of patients assessed regularly for six months
Patients who had a distal radial fracture followed by ORIF surgery were recruited and assessed, which led to 78 patients accepted and randomly assigned to the standard or accelerated rehab protocol. Both groups began with range of motion (ROM) exercises of the shoulder, elbow, forearm, wrist and fingers 3-5 days after surgery. Two weeks after surgery, the accelerated group started new ROM exercises, plus light strengthening exercises, and four weeks after surgery, the splints they were using were removed. The standard group wore the splint until six weeks after surgery, at which time they began the other ROM and strengthening exercises. All patients were assessed for numerous outcomes at regular intervals for six months.
Patients in accelerated group have better scores and function than standard group
The accelerated rehab group reported better mobility, strength, and Disabilities of the Arm, Shoulder and Hand (DASH) scores than the standard rehab group. Improvements were noted within the first eight weeks after surgery, and were considered statistically significant. These findings suggest that starting wrist motion within 3-5 days and strengthening exercises at two weeks after surgery can lead to an earlier return to function for patients. Though some surgeons are skeptical of moving the wrist so soon after surgery, this study presents a case that accelerated rehabilitation may lead to better results and a faster return to activities.
-As reported in the October '14 issue of
The Journal of Bone and Joint Surgery
April 22, 2016
See News
Disclaimer:
The information in the articles, posts, and newsfeed is intended for informational and educational purposes only and in no way should be taken to be the provision or practice of physical therapy, medical, or professional healthcare advice or services. The information should not be considered complete or exhaustive and should not be used for diagnostic or treatment purposes without first consulting with your physical therapist, occupational therapist, physician or other healthcare provider. The owners of this website accept no responsibility for the misuse of information contained within this website.